A method that helps customers check the quality of their service is "Download Speed Test".
To do this test, you can log onto one of these two pages (inside the country speed test or outside the country speed test) and rate your download speed on web pages.
Keep in mind that you need to install BCS software with Administrator access on your system to view these pages.

Please note the following when running this test:
This system has been developed in order to provide the subscribers of high-speed internet services with the ability to check the speed of their service in accordance with the resolution No.152 of Communications Regulatory Commission, which examines the quality and speed of the access of subscribers on Shatel network.
Prior to running the test, make sure that physical parameters of your DSL line, including noise and signal levels, are appropriate. A full description about this is provided on Shatel site's Content page, under "Reviewing ADSL Quality Parameters". In addition, if you have any questions, you can contact Shatel Technical Support.
When running the test, do not use any other software or systems, otherwise the results will not be accurate and reliable.
It is recommended that you run this test by connecting the system to the CPE using the network cable to ensure the reliability of the results. Due to environmental noise, the wireless network used in your area, may have an undesirable effect on the result of the test.
It is worth mentioning that the speed of shared services is announced on a "bits per second" basis, but the speed normally displayed by download software is based on "bytes per second." For example, if you are using a 1024 Kilobits per second service, when downloading by means of Internet Explorer, speed will be up to 128 Kilobytes per second in proportion to your service.
Surely, if this speed is in contrast with the service you receive from Shatel, you can contact Shatel Technical Support in various ways to resolve your problem, or fix this issue by using various sections in technical support section on Shatel website. Undoubtedly, offering the best quality service to our customers is always one of the most important goals of Shatel.
After downloading BCS, you can install it in two different ways.
Right click on the downloaded file and run "Run as administrator" and follow the installation stages.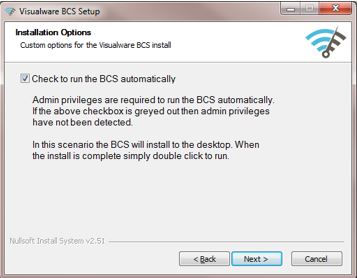 Double click on the downloaded file and save the file on Desktop. Then run the file saved on your desktop.
When the test is complete, in addition to viewing the test result on this page, you can also have access to test results on Voice of the Customer on my.shatel.ir after a while.