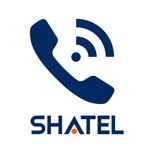 ShatelTalk Services on Smart Phones
ShatelTalk Services have been specifically designed for customers who are already using the Shatel high-speed Internet Services and the ones who are willing to use Shatel telephone services by having a special number on their smart phones.
The most important advantage of such services are as follows:
Having a private number on your cell phone without a Sim Card
Transferring the number throughout the country
Selecting the phone number by the user through the purchase process
Being user-friendly by having access to the contact numbers of your cell phone
Benefiting from Shatel Telephone Services can be arranged by contacting the H.Q of Shatel and it's exclusive agent all around the country. (You can find the list of the exclusive agents on the Shatel.ir).
Sales No: 91000000
Technical Support No: 91000000
Download App
Compatible with:
Android 4.0 and Up
iOS 8.o or Later (iPhone, iPad, iPod touch)
* This application is not compatible with BlackBerry Devices.